+918035918697

Send Inquiry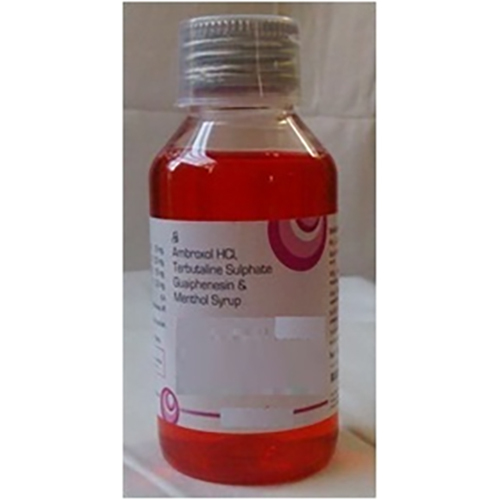 Trade Information
5,00,000

30 DAYS

All India

WHO, GMP, ISO
Product Description
Product Name: Terbutaline Sulphate, Ambroxol Hydrochloride and Guaiphenesin.
Pack Size: 100 ML
It is a combination of Terbutaline Sulphate, Ambroxol Hydrochloride and Guaiphenesin.
Terbutaline is a selective beta2 -adrenergic agonist which predominantly stimulates beta2-receptors, thus producing relaxation of bronchial smoothmuscle.
Ambroxol possesses mucokinetic (improvement in mucus transport) and secretolytic (liquifies secretions) properties. It promotes the removal of tenacious secretions in the respiratory tract and reduces mucus stasis (arresting the secretion of mucus). Besides that, Ambroxol also exhibits anti-oxidant activity.
Guaiphenesin, by increasing respiratory tract fluid, reduces the viscosity of tenacious secretions and acts as an expectorant. Another possible mechanism by which it acts is by increasing the water bonding in the sputum, thereby decreasing its viscosity and leading to an increase in mucokinesis. Guaiphenesin is effective in both productive and nonproductive coughs.

Metabolism: The main metabolite after oral dosing is the sulphate conjugate and also some glucoronide conjugate can be found in the urine.

Ambroxol: Absorption: Ambroxol is rapidly absorbed (70-80%) after oral administration. The time to reach peak plasma concentration is approximately 2 hours.
Distribution:The distribution half-life of ambroxol is around 1.3 hours.
Metabolism: Metabolite is dibromoanthranilic acid (activity unspecified).
Excretion:Excretion is primarily via the kidneys. Renal clearance (rate) is approximately 53 ml/minute; approximately 5-6% of a dose is excreted unchanged in the urine. The elimination half-life of ambroxol is biphasic, with an alpha half-life of 1.3 hours and a beta half-life of 8.8 hours.

Guaiphenesin: Absorption: Guaiphenesin is well absorbed from the gastro-intestinal tract following oral administration, although limited information regarding its pharmacokinetics is available. After the administration of 600 mg Guaiphenesin to healthy adult volunteers, the Cmax was approximately 1.4ug/ml, with tmax occurring approximately 15 minutes after drug administration.
Distribution: No information is available on the distribution of Guaiphenesin in humans. Metabolism and elimination: Guaiphenesin appears to undergo both oxidation and demethylation. Following an oral dose of 600 mg guaifenesin to 3 healthy male volunteers, the t½ was approximately 1 hour and the drug was not detectable in the blood after approximately 8 hours. Pharmacokinetics in Renal/Hepatic Impairment: There have been no specific studies of Guaiphenesin in subjects with renal or hepatic impairment. Caution is therefore recommended when administering this product to subjects with severe renal or hepatic impairment.

DOSAGE AND ADMINISTRATION
Adults 10-20 ml thrice daily Children (6-12 years): 10 ml thrice daily Children (under 6 years): 5-10 ml thrice daily

Other Information
Packaging Information
Packaging can be customized according to the customer requirement.
Pet bottle of 100 ml.
FACMED PHARMACEUTICALS PVT. LTD.
Other Products in 'Pharma Liquid' category
"We deals in bulk quantity"