Send Inquiry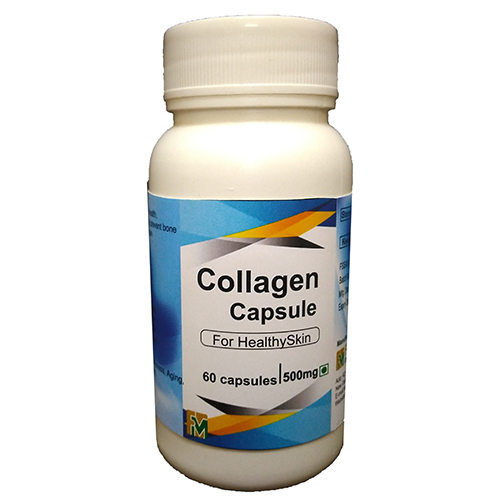 Product Specifications
As per doctor

Specific Drug

As per doctor

Capsules
Product Description
Collagen capsules are a dietary supplement that contains collagen, a protein naturally found in the body and responsible for maintaining the health and structure of various tissues, including the skin, joints, and bones. These capsules provide a convenient way to supplement collagen levels and support overall health and well-being.
Frequently Asked Questions (FAQ):
Q: What is collagen, and why is it important?
A: Collagen is the most abundant protein in our bodies and plays a crucial role in maintaining the strength and elasticity of various tissues, including the skin, tendons, ligaments, and bones. It provides structural support and helps maintain their integrity. As we age, collagen production naturally declines, leading to signs of aging, joint discomfort, and reduced skin elasticity. Supplementing with collagen can help support these tissues and promote overall health.
Q: What are collagen capsules used for?
A: Collagen capsules are primarily used to support and promote the health of the skin, joints, and bones. They are often taken to improve skin elasticity, reduce wrinkles and fine lines, support joint function and flexibility, and promote bone health. Additionally, collagen has been associated with potential benefits for hair, nails, and gut health.
Q: How do collagen capsules work?
A: Collagen capsules contain hydrolyzed collagen, which means the collagen protein has been broken down into smaller peptides to enhance absorption. When consumed, these peptides are absorbed into the bloodstream and distributed throughout the body. They provide the building blocks necessary for the body to produce and replenish collagen in various tissues, promoting their health and function.
Q: How should I use collagen capsules?
A: The specific usage instructions may vary depending on the brand and formulation. Generally, collagen capsules are taken orally with water, preferably on an empty stomach or as directed by the product labeling. It is advisable to follow the recommended dosage and consult the instructions provided by the manufacturer or your healthcare professional for best results.
Q: Are there any side effects associated with collagen capsules?
A: Collagen capsules are generally considered safe for most individuals when consumed as directed. However, some people may experience mild side effects such as digestive discomfort, bloating, or a feeling of fullness. If you have any pre-existing medical conditions, allergies, or concerns, it is advisable to consult your healthcare provider before starting any new dietary supplement.
Enter Buying Requirement Details
Other Products in 'Pharmaceutical Medicines' category
"We deals in bulk quantity"