Send Inquiry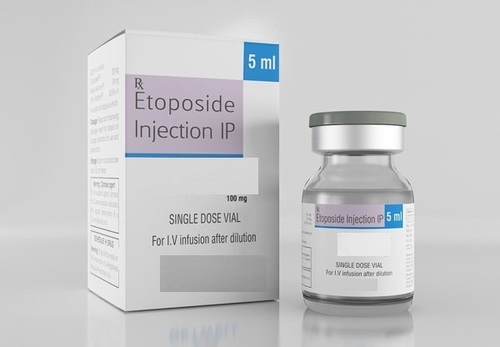 Trade Information
30 Days

Asia

All India

WHO, GMP, ISO
Product Description
Etoposide injection is a medication that belongs to a class of drugs called topoisomerase inhibitors. It is primarily used as a chemotherapy agent in the treatment of various types of cancer, including lung cancer, testicular cancer, and certain types of lymphomas and leukemias.
Frequently Asked Questions (FAQ):
Q: How does etoposide injection work?
A: Etoposide works by interfering with the DNA replication process in cancer cells. It inhibits the activity of an enzyme called topoisomerase II, which is necessary for DNA unwinding and replication. By preventing DNA repair and replication, etoposide helps to inhibit the growth and division of cancer cells.
Q: In which conditions is etoposide injection used?
A: Etoposide injection is used in the treatment of various types of cancer, including small cell lung cancer, testicular cancer, certain types of lymphomas (such as Hodgkin's lymphoma), and certain leukemias (such as acute myeloid leukemia). It may also be used in combination with other chemotherapy drugs for specific cancer treatment regimens.
Q: How is etoposide injection administered?
A: Etoposide is typically administered through an intravenous (IV) infusion or injection in a hospital or clinical setting. The dosage and administration schedule will depend on the specific cancer being treated and the treatment protocol prescribed by the healthcare provider.
Q: What are the potential side effects of etoposide injection?
A: Etoposide injection can cause several side effects, including nausea, vomiting, hair loss, lowered blood cell counts (which may increase the risk of infection or bleeding), fatigue, mouth sores, and gastrointestinal disturbances. It can also have effects on the reproductive system and may cause temporary or permanent infertility in some individuals. It is important to discuss potential side effects with your healthcare provider before starting treatment.
Q: Can etoposide injection interact with other medications?
A: Etoposide may interact with other medications, including those prescribed for other medical conditions. It is crucial to inform your healthcare provider about all the medications, supplements, and herbal products you are taking to avoid potential interactions.
Enter Buying Requirement Details
Other Products in 'Anticancer Product' category
"We deals in bulk quantity"