Send Inquiry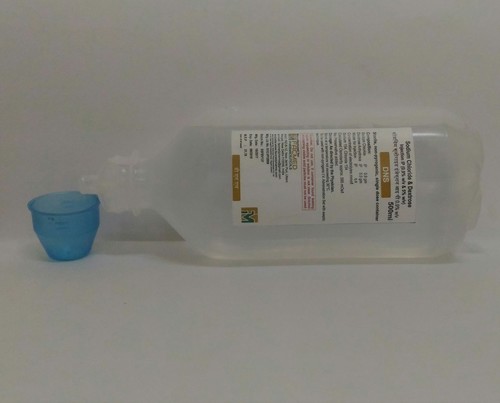 Product Description
Product Name: - DNS 500ML (Sodium Chloride & Dextrose Injection 500ml)
Description:
D.N.S Infusion is used for Blood and fluid loss, Treatment of insulin hypoglycemia, Low calcium levels, Intravenous infusion as carbohydrate source, Low potassium levels, Low sodium levels and other conditions. D.N.S Infusion may also be used for purposes not listed in this medication guide. D.N.S Infusion contains Dextrose and Sodium Chloride as active ingredients. D.N.S Infusion works by increasing the blood volume; possessing the sodium chloride content; restoring blood glucose levels in patients with hypoglycemia and providing a source of carbohydrate calories when needed;
Each 100 ml contains:
Dextrose Anhydrous IP: - 5.00 gm (5% w/v).
Sodium Chloride IP: - 0.9 gm (0.9% w/v).
Water for Injection I.P:- q.s.
mmol/L: - Na154, Cl154.
Kcal/L: 170, Dextrose 50 gm/L.
To be used with Non- Pyrogenic I.V administration with aseptic technique.
Device Characteristic:
Sterile Non-Pyrogenic single dose plastic container.
Caution:- Even invisible damage to the bottle during transit, storage or handling may result in contamination. Don't use if the container is found leaking upon squeezing or if the solution is not clear. Solution containing visible solid particles not be used.
Enter Buying Requirement Details
Other Products in 'Pharma Injections' category
"We deals in bulk quantity"