Send Inquiry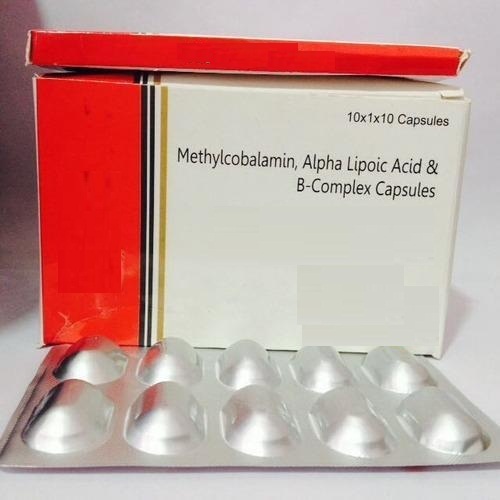 Trade Information
30 Days

Australia, South America, Eastern Europe, Western Europe, Middle East, Africa, Central America, Asia, North America

All India

WHO, GMP, ISO
Product Description
Common Name: Vitamin B Complex with Vitamin B12 Complex

Strength: Multiple strength available

Description:
This product is a combination of B vitamins used to treat or prevent vitamin deficiency due to poor diet, certain illnesses, alcoholism, or during pregnancy. Vitamins are important building blocks of the body and help keep you in good health. B vitamins include thiamine, riboflavin, niacin/niacinamide, vitamin B6, vitamin B12, folic acid, and pantothenic acid.

Indications and Usage:
Vitamin B Supplements Are Tied to Lower Stroke Risk: In addition to their role in metabolism and in maintaining healthy skin and hair, B vitamins have been linked to a lower incidence of stroke, a condition in which a blood clot blocks blood flow to the brain, or a blood vessel bursts in the brain.
Vitamin B1 is Important For Preventing Beriberi:The recommended daily intake of vitamin B1, also called thiamine. Vitamin B1 helps your body break down carbohydrates into sugars.
Riboflavin, Vitamin B2, for Energy:A diet rich in vitamin B2, also known as riboflavin, is needed to avoid riboflavin deficiency. Riboflavin helps body break down and use the carbohydrates, fats, and proteins in your diet. This type of B vitamin also functions to keep your skin, lining of the gut, and blood cells healthy. Riboflavin may also increase energy levels, boost the immune system, and treat acne, muscle cramps, and carpal tunnel syndrome.
Vitamin B3: We need nicotinic acid or niacin, in our diets every day to break down food we eat into energy we can use. Not getting enough niacin in diet causes the disorder known as pellagra. Symptoms of pellagra include both physical and mental difficulties, diarrhea, inflamed mucus membranes, and dementia. Pellagra can also result when the body is not able to absorb enough niacin because of alcoholism. Health benefits of niacin include its use as a treatment to help control high blood levels of cholesterol.
Vitamin B5 (Pantothenic Acid) for Growth: This type of vitamin B is needed for many of the biochemical reactions that go on in our cells each day, including breaking down carbohydrates and lipids for energy. Because it's a water-soluble vitamin, you need vitamin B5 in your diet every day. Pantothenic acid is necessary for our bodies to produce hormones, and it's also needed for growth.
Vitamin B6 is Essential for Healthy Blood: Getting enough vitamin B6 is important because it's involved in more than 100 enzyme reactions in the body's cells. These include helping the body metabolize amino acids from our food, and building new red blood cells. The health benefits of vitamin B6 uncovered by clinical research include reduction in heart disease risk. Although its deficiency can lead to anemia and rash, as well as depression and confusion.
Vitamin B12 is essential for building blood cells and maintaining healthy nerve cells in the body. It can lead to anemia. Symptoms of B12 deficiency include weakness, fatigue, constipation, weight loss, and loss of appetite. Deficiency is also damaging to the nervous system and can cause depression, confusion, and dementia.

Pack Size: Each pack has 10 x 10 capsules

Minimum Order Quantity: 3000 packs
Enter Buying Requirement Details
Other Products in 'Pharma Capsules' category
"We deals in bulk quantity"